As I described in "the Death and Rebirth of Mariupol", there is a fundamental conflict between the Western and NATO narrative about what happened there from March to May 2022 and the real events that took place, as described by both local sources and journalists from non-Western media. Those events were also recorded live and in detail by a number of brave and dedicated investigators and observers, including Eva Bartlett, Graham Phillips and Patrick Lancaster, who ventured into safer areas while the siege of Azovstal was still underway.
---
---
---
Unbeknownst to me, while writing that article, Eva Bartlett was visiting Mariupol before the new year holiday to report for RT, and give a true picture of what life is really like in the city as it starts to recover – from eight years of occupation by Kiev and from three months of violent destruction and terror before its final liberation. The report is on her Telegram channel here, and screenshot below.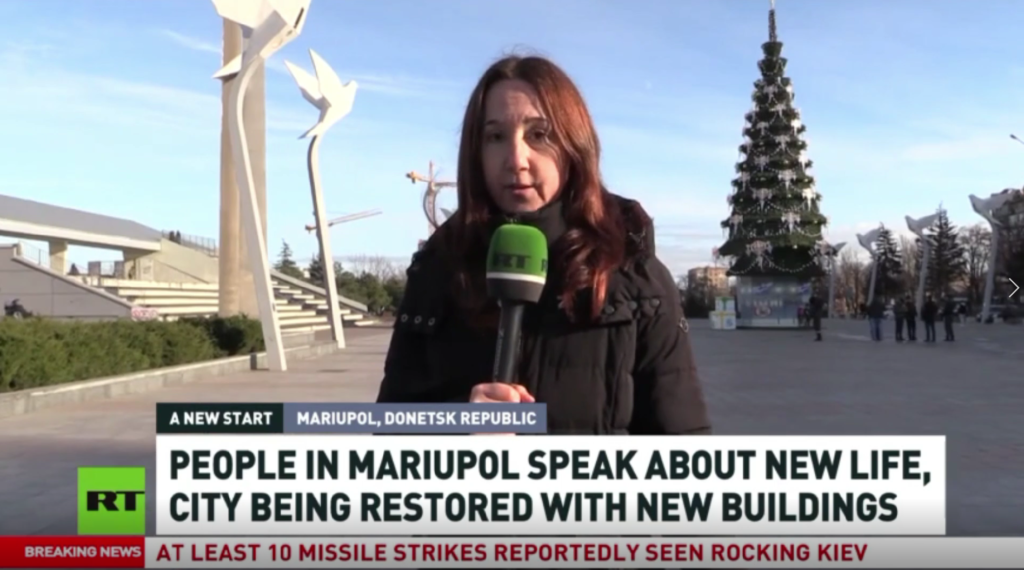 Eva's report is just the latest from RT's ongoing coverage of life in the city since its final liberation from the Azov battalion's iron grip – appropriately enough after they locked themselves into the bunkers under the Azovstal steelworks with no way out except to finally surrender. Reviewing the progress since, Moscow volunteer Yuri Mironov posted this report for RT in mid December, describing the way that Mariupol's resilient citizens are finding ways to continue their lives in the absence of proper facilities, shops and supplies. Large reconstruction projects have been undertaken in areas of the eastern city, such as this illustrated below, from Eva's report: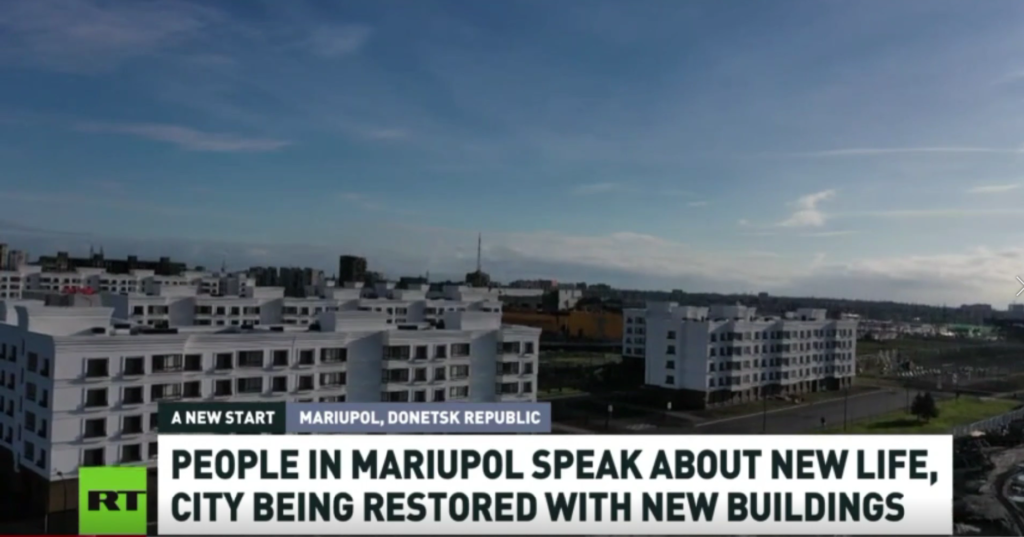 But while Western media and Kiev's cheer squad may like to ignore these encouraging developments and Russia's positive role in restoring what their soldiers helped destroy, they shouldn't imagine that Kiev's multiple crimes against its own citizens in Mariupol will be either forgiven or forgotten. While many of these crimes - principally the use of civilians as human shields - were known and observed at the time, verifiable evidence of who died and how is now being gathered by the local DNR authorities with a view to bringing a case at the ICC or the UN. Under the current circumstances, the chance of such a case actually being prosecuted is slim, but the point is to make the case. One day when the horrific reality of what has been perpetrated in Eastern Ukraine by the Empire and its many proxies finally becomes known to and understood by the Western public, this evidence will take its proper place. 

  This article is an assessment of where things stand at the moment, including the revelation, or "claim" that 3000 civilian residents of Mariupol died or were killed as a direct result of being used as human shields by the Nationalist fighters. It should also be noted that much of the destruction and damage to apartment blocks, particularly those east of the river around their Azovstal headquarters, was a direct result of the Azov's military strategy, placing tanks and machine gun posts in amongst residential areas. Most of the residents who supported Kiev and the Azovs had already fled the city, so those that remained were "Russian" and expendable - in their view. 

 Of course there have already been multiple claims made by Kiev and allies that thousands of civilians met their deaths in Mariupol, and implied these were all at the hands of the Russians. There have been two major false claims about "mass graves", without any such graves turning up. The latest of these referred to a huge cemetery to the NE of the city which has been there since WW2, and which has many people recently buried there. Some have been reburied there, since conditions when they died meant they were buried in gardens. The identities of most of these people would be known. 

  The story of what happened at the Drama Theatre is a little different, as it appears that few people died there following the explosion. Even though there were reports - and some videos - in the news before the event showing dozens of people sheltering there, most had apparently left following rumours of a humanitarian convoy to leave the city. The conclusion of Vasily Prozorov and of the DNR's representative in his video is that the whole thing was a "provocation" by the Nationalists, aimed at getting support for a no-fly-zone.

 Currently there is continual talk of war crimes allegedly committed by Russia, in Western media and from UN bodies and HR groups. While there may be cases where individual soldiers have committed such crimes, the idea that they were condoned or even ordered by Russian authorities or military is preposterous and slanderous. One is anyway disinclined to believe such stories from those who also claim that Russia "targeted civilians" and committed atrocities like the killings in Bucha. Such claims are made and have been made from the beginning in the absence of any verifiable evidence, either based on hearsay or on disinformation. 
 
 This is quite unlike the situation with Ukrainian forces' innumerable crimes, such as the targeting of civilians with banned Petal cluster munitions, or the missiles fired at gatherings; the Tochka-U missile aimed at Kramatorsk station and killing dozens of people being a notorious example. Like those in the drama theatre, civilians had been lured to the site of the planned attack by news of an evacuation train. Despite the clear evidence the missile was fired from a village controlled by the AFU, including its identification with serial numbers visible on the missile wreckage near the station, the false flag attack - it was blamed on Russia - was not officially investigated. 

  This is why it is important to focus now on the investigation into the blowing up of the Drama Theatre, carried out by the Donetsk Peoples Republic authorities and Vasily Prozorov following Mariupol's liberation and safe access to the area. The inspection carried out by a certified engineer, along with highly credible testimony from witnesses still resident in the city, make this a particularly important document. It stands in contrast to the remote "investigation" carried out by Amnesty International and associated groups, which relied on virtual recreations of the explosion and the testimony of refugees. 
  
  That being said, and as detailed in my complaint to SBS referred to in the previous article, Amnesty's technical analysis of the explosion also came to the conclusion that it occurred beneath the stage, and that few people appeared to have died. But both these conclusions were unacceptable to Amnesty's sponsors and followers, so they simply ignored the scientific evidence, while devising an elaborate explanation of how Russian missiles had managed to reach the basement through the roof before exploding. 

 As the documentary is on Telegram, I have copied it here as well as splitting into five parts, including a brief description of each part below.
1. Introduction, false media claims, Donetsk Ombudsman, Engineer's exploration of the theatre.
2. Engineer examines collapsed roof, witness testimonies, engineer explores basement.
3. Engineer shows proof of explosion location, witness describes scene after explosion, nature of injuries of victims.
4. "The Provocation" – observations on behaviour of AFU soldiers, suspected movement of explosives into theatre.
5. Conclusions of experts and witnesses that the bombing was an Azov provocation, summary of points and credits.
No amount of documentation and expert opinion, done without access to the site or input from local authorities can challenge the opinions and conclusions of the witnesses and experts involved in this analysis. Allowing the media to simply carry on presenting the lies told by Kiev and its supporting foreign agencies amounts to direct collusion with neo-Nazi groups in the commission of war crimes.  If the claims and conclusions can be challenged and refuted, as those media contend, then they must be presented in a court of law and judged accordingly. 
DM 5th January 2023