If Kiev and its backers really wanted to silence the truth, they should have known better than to put a bomb under Darya Dugina's car. But not only did they draw the Western audience's attention to this smart and highly committed war correspondent, they risked also giving support to her cause – fighting for the natural rights of Ukraine's Russian-speaking population in Donbas. Of course that's the way things should be, but not the way they are. Despite Darya's killer being rapidly identified and photos of her spread around the world, there was little interest from the West in the murder of a young woman who spoke out against Ukrainian neo-Nazis like the SBU's agent Natalia Vovk. Not so outside the Western echo chamber though – Dugina will never be forgotten either as a martyr, or as a victim of state-sponsored terrorism and a turning point in the war on Russia.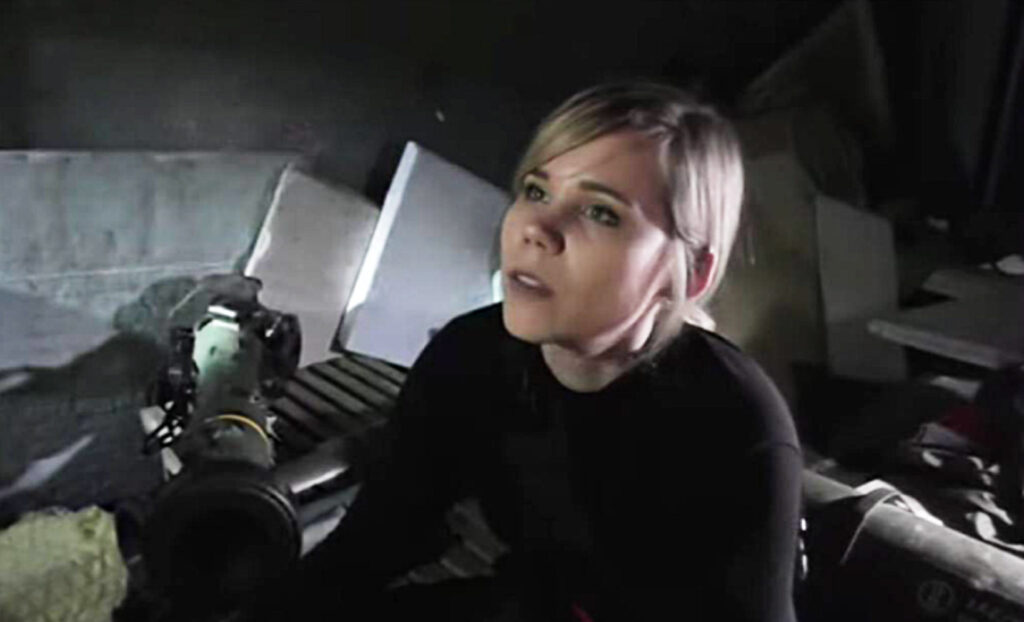 In the picture above, Darya was photographed by another war correspondent Graham Phillips, as they investigated the catacombs beneath the Azovstal steelworks following the surrender of the last of the nationalist militants holed up there. She sits beside a NATO-supplied anti-tank weapon, while talking about the Azov militants and those of "Misanthropic" whose obsession with Nazi symbols is evident all around them. Some extracts of his interview are in the video posted below – the full version can be watched here.
But as with everything else in this war, NATO's propaganda machine twists reality and calls these men "heroes", while the chronically disinformed Ukrainian public and its Western cheer-squads call for their release from Russian and DPR custody. These brutal and war hardened neo-Nazis are lionised for "defending Mariupol against the Russian invaders", when they defended only themselves by being barricaded inside the Soviet-built bunkers beneath the steelworks. Barring an early escape attempt and alleged rescue of foreign NATO forces, the militants and their families had no opportunity to fight, until they were finally forced to surrender without resistance.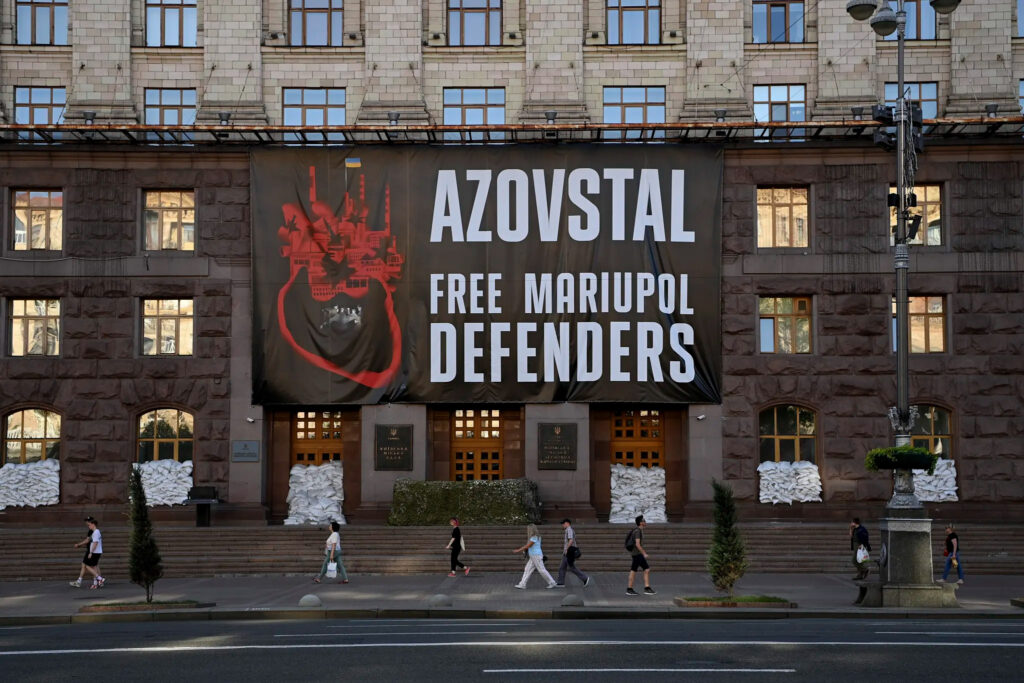 Putin's vow that "not even a fly" would escape but that surrender would be honored was borne out, in what should have been an embarrassing rebuttal to Western predictions. That those hundreds of prisoners went on to receive proper hospital care and fair treatment is particularly a credit to the soldiers of the Donetsk People's Republic, who lost so many colleagues to these men over the previous eight years. Their commitment was also to see them brought to trial, as well as provide testimony to be used against commanders and the Kiev regime. 
 Perhaps it is no coincidence that the woman sent to murder Dugina in Moscow set off on her mission at the same time as Azovstal prisoners were starting to be interviewed and to incriminate their leaders, looking for a plea bargain or simply with nothing to lose. Given the treatment Kiev has afforded both captured soldiers and their own "deserters", many may also have opted to swap sides - or at least chosen not to return to Kiev's control. Maxim Grigoryev is continuing to collect information and insights from his interviews with Azov prisoners, as well as giving them insights into the shocking truth of their own indoctrination.
 Meanwhile old soldiers in the AFU as well as new recruits are openly displaying their extremist "nationalism", as illustrated by these badges worn by some interviewed in Mikolaev and Odessa by Western journalists: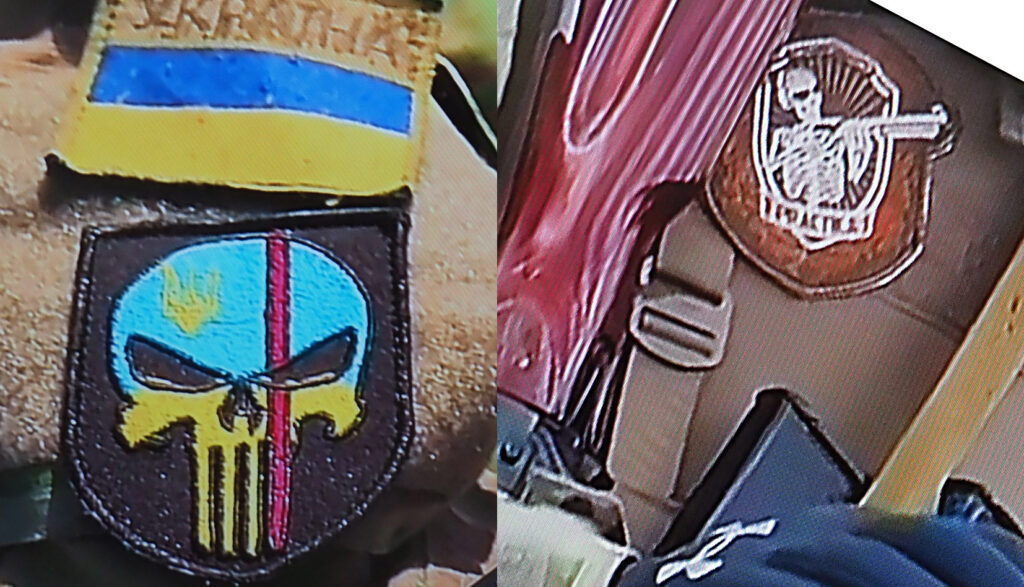 Also evident is the merging of the neo-Nazi or Banderite Azov battalion with the Ukrainian flag, as seen here in a piece of street art photographed around Independence day, the 24th of August, the black and red of the Right Sector in the banner above being replaced with blue and yellow. The appeal is now to bring home the Prisoners of War held in the DNR alive – only they would be better to appeal to Kiev after what happened to the guys in Yelenovka detention centre, as I have described earlier.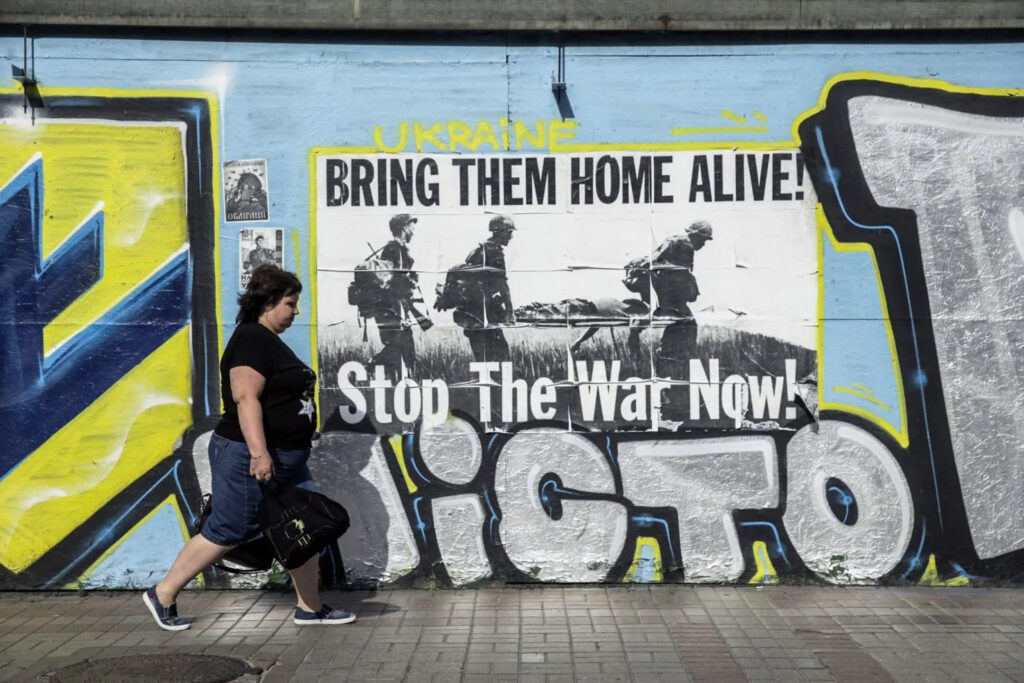 The focus on the Azov battalion, bad as it is, has obscured the presence of extremist groups like the Tornado and Misanthropic, whose Nazi sympathies are quite proudly displayed and whose brutality is unrestrained. That Darya Dugina chose to pick out Misanthropic for special mention in the interview above is rather appropriate, as some members of this group in a dug-out near Donetsk were visited by Al Jazeera correspondent Charles Stratford only days before the start of the SMO. Below are a few images taken from his video report, screened on Al Jazeera on the 20th of February, and then screened without alteration by SBS the same evening. The apparent inability to recognise extremist symbols and signs is shared by all Western media operating in Ukraine. They can hardly now admit giving licence to these terrorist groups, who are little different from IS or HTS in Syria, so the Nazi symbology is simply ignored.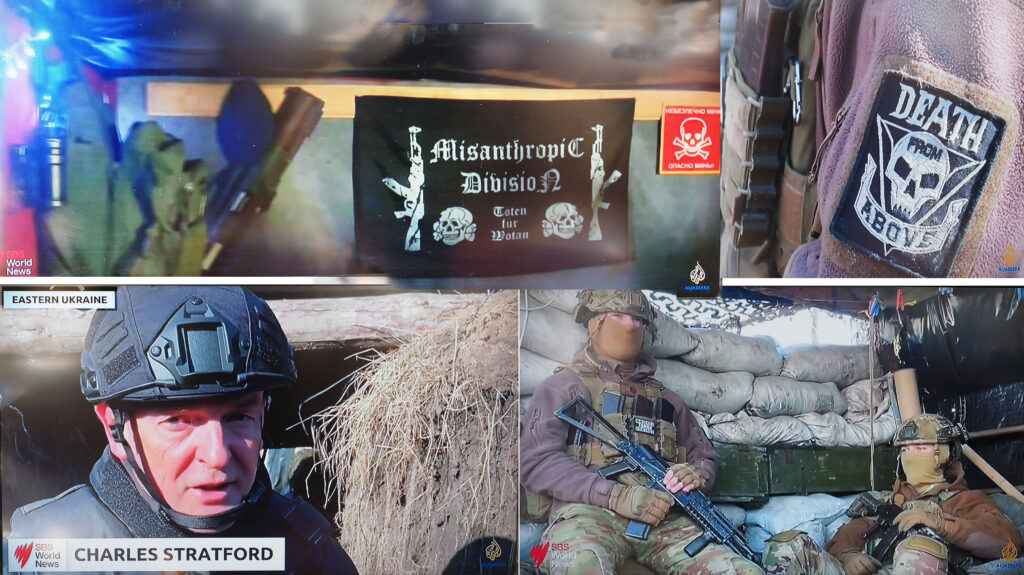 Stratford introduced the two young men in the bunker as ordinary Ukrainian army soldiers, and after following them along a trench into the dug-out, heard their story. It was they said, a bunker previously used by the separatists, who were in trenches only a hundred metres away, with a minefield between. "Putin's men" they said, would soon be pushed back - though this looks unlikely for them; only that small part of the original demarcation line West of Donetsk city remains more or less unmoved, and as Avdiivka is still the source of most missiles and shells into the DNR they will surely soon meet their end. 

The murder of Daria Dugina appears to be a special forces operation of some kind (a second collaborator has now been identified by the FSB) that has resonances with the past as well as portents for the future. Today it is four years since another vile act - the murder of the much-admired and loved leader of the DNR, Alexander Zakharshenko. There were rumours at the time of his killing - by a small explosive device while he sat outside a cafe in Donetsk - that MI6 had a hand in it, which may well be true. Zakharshenko was the one person accepted to have a presence at the Minsk agreement discussions as a representative of the two independent republics, and his death stalled any progress on the terms of the peace agreement. Significantly too, agreeing to his terms for partial autonomy and independence would have brought an end to the fighting and led to a peace agreement of some kind - clearly not what Kiev or its NATO backers wanted.  

They, and the UK in particular, were too busy trying to raise the stakes against Russia, and busy training and equipping the nationalists in Donbas for the coming conflict. Only days after Zakharshenko's assassination, UK authorities "released" the identities of the two Russians they alleged had gone to Salisbury to poison Sergei Skripal, with this triggering the introduction of yet more sanctions against Russia. What appeared to be an "orchestration" of MI5/MI6 activities against Russia in Salisbury and Syria in April 2018 evidently included Ukraine - as it still clearly does.
 Below is the memorial to Zakharshenko outside the Separ cafe' in Donetsk: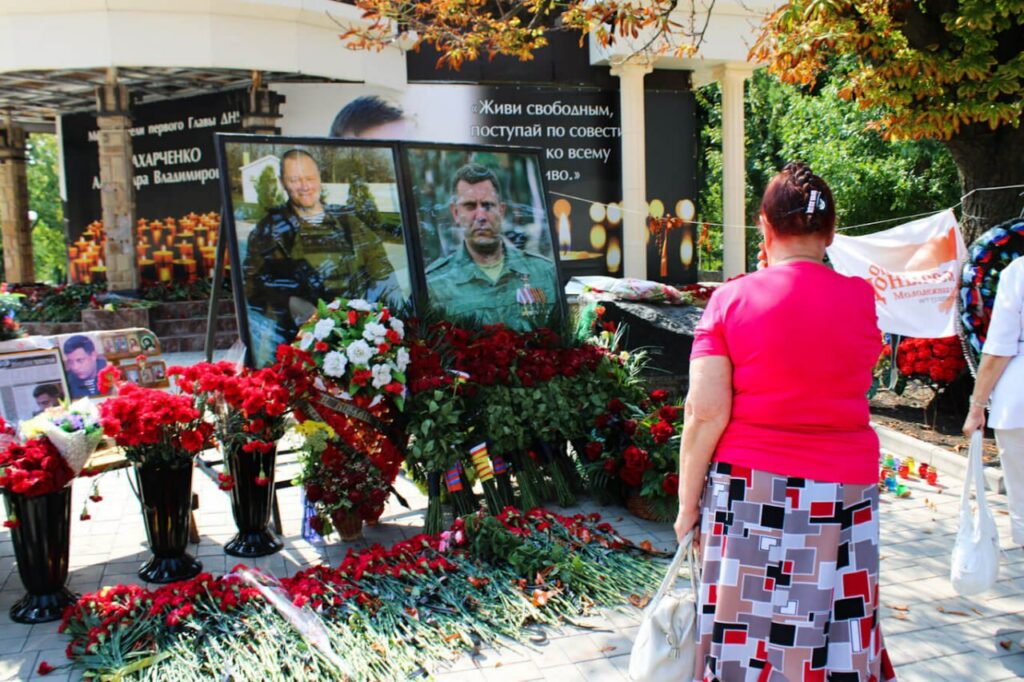 Six months later in March 2019 a documentary film was released with the story of a child born to a young doctor in East Aleppo, called "For Sama". Waad al Khatib, mother and filmographer, made the film for her daughter Sama, recording the events of late 2016 in the blockaded suburb. Her story culminated in a night-time flight with her doctor husband just as the last armed extremists were being shepharded out of their ruined retreat and bused to nearby Idlib. Unlike the militants who holed up in Azovstal, Aleppo's "rebels" were able to leave with their possessions, families and weapons under the terms of the final settlement demanded by the collective West and the UN, and reluctantly agreed to by Russia and Syria. A true picture of the situation can be read here, as written by a lover of Syria, Susan Dirgham. Aleppo's liberation from four years of occupation by Islamist militants is a story so far untold in Western media. 

  Looking back now, after six more years of war and many insurgent attacks and terrorist actions by the Idlib militants, there would be many Syrians ruing the day these murderous foreign-backed terrorists were allowed to go free. Syrian soldiers who had fought and died in the liberation would have liked to see them executed, or at least put on trial. Meanwhile the UN agencies and human rights groups and Western media who forced the agreement on Syria have also gone on to try the same tricks in Ukraine, though they met their match in Russia and perhaps in the locals too. It is instructive to make this comparison, as in a different context the "rebels" of the Donetsk and Luhansk republics would be the ones getting Western support for their resistance against the violent racism of Kiev's "anti-terror operation". We might ask why. 

 So this is for Dasha: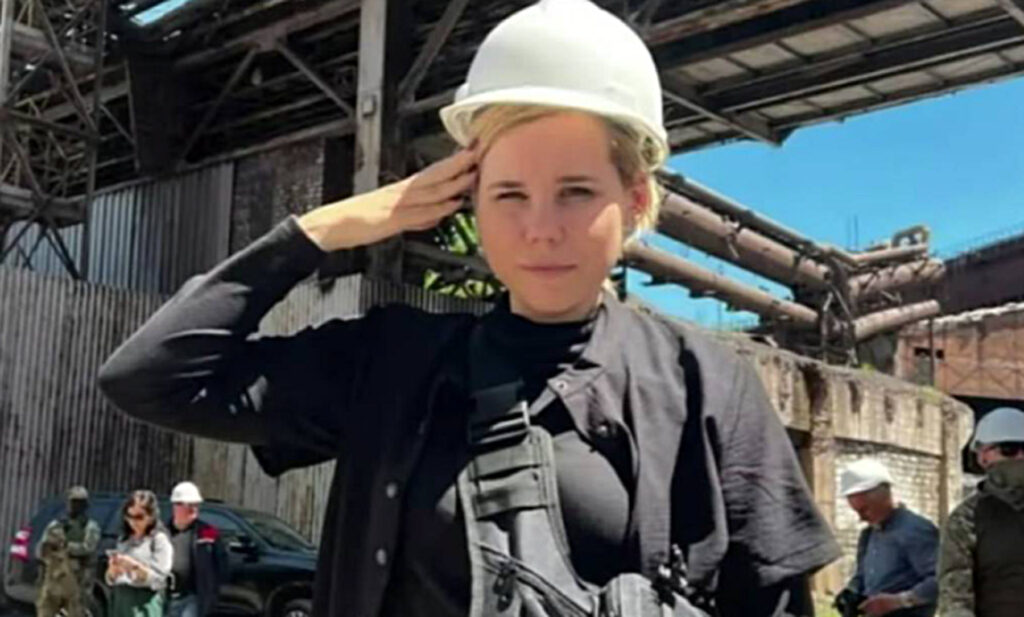 DM 2nd September