While the leaders of the "breakaway" people's republics of Donetsk and Luhansk and their neighboring and allied regions of Kherson and Zaporizhye were at the Kremlin in Moscow, Ukrainian forces took the opportunity to launch an attack on civilians fleeing Kiev's control for the liberated areas. A similar missile strike - reportedly with a HIMARS missile directed by drone surveillance - had killed dozens of people in a convoy of cars near Kupyansk the previous day - but was poorly reported. The circumstances made it hard to blame Russia for the strike, so it was best ignored.  

 Such attempts to escape from Ukrainian-controlled territory to that liberated and protected by Russia were evidently anticipated, so some Kiev-style "warning shots" were used to deter others from following. The poor people who had finally abandoned their homes - no doubt hoping to return before long after Russia responded - would also have been fearful of retributions and worse, as "Russian collaborators".   

 This story - reflecting the reality of life for those under Kiev's oppressive control - was not something the Ukrainian regime or its Western backers wanted anyone to hear however, so they came up with an alternative that turned the civilian refugees into innocent victims of a Russian attack. But to get the timing right - to rain on Moscow's parade so to speak - Kiev's forces had to stage an attack in an area where they could control the narrative.    

It's impossible to believe that Western agencies - MI6 in particular - were not responsible for setting up the missile strike on a "convoy" in Zaporizhye, the news of which hit the Western media at the same time as the huge concert in Red Square celebrating the accession of the new territories into the Russian Federation. So it was that the BBC news at 6 on the 30th of September was able to cast a pall over the pleasure and excitement - and Vladimir Putin's remarkable speech at the Kremlin, with the presentation illustrated below, and which followed right after the report from Moscow: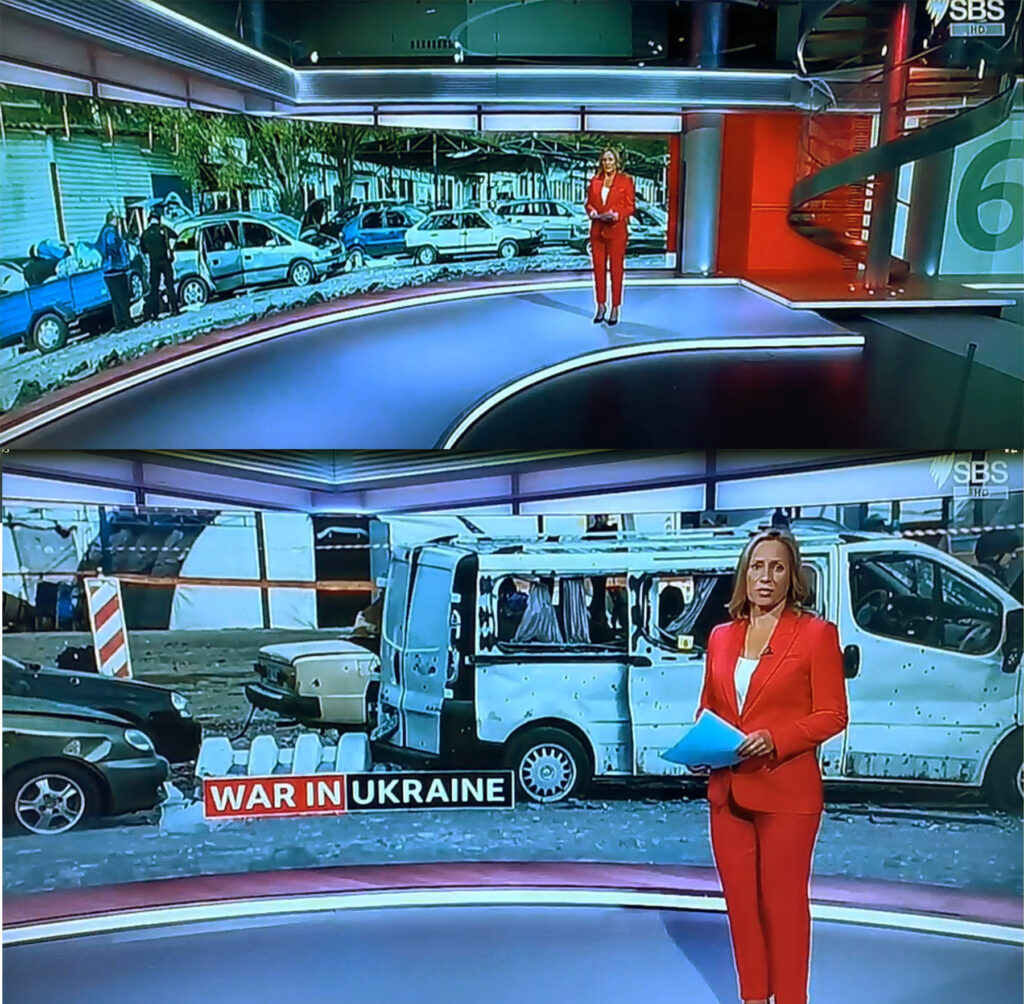 But first some more context, and detail on what actually happened. Following local news on friendly Telegram channels, I heard initial reports of a deadly Ukrainian missile attack on a refugee convoy in Zaporizhye, including a photo of a line of wrecked cars. At the same time however the NATO-certified story appeared in multiple Western media, in much the same way that "news" of the bodies on the streets of Bucha hit the news-stands on April 1st. 

Like that story, and so many others, the twisted version of reality Western audiences were led to believe was this - that a convoy of vehicles was hit by Russian artillery while waiting at a checkpoint to enter "occupied territory", where they were taking humanitarian aid and visiting or rescuing relatives to bring back to safety. (This false story has been further added to by the BBC in this report alleging people are escaping the now-Russian territories to avoid the draft)   

 That Russia intentionally targeted a civilian convoy was not just a lie to cover up a Ukrainian missile strike that hit and killed civilians by accident, nor just a lie about the nature of the convoy - which was soon reported to have been of people trying to return to Russian-liberated territory; it was a whole convoy of lies, delivered like another shot of heroin to an addicted Western public when they needed it most. 
 Watching the smiling and cheering faces of thousands of Russians in Red Square, and the evidence of overwhelming support for the "Novorossiyans", some at least might have been wondering whether the referenda were really the "illegal shams" we had been told, and why exactly they were "discredited". A counter-narrative to illustrate Russia's intrinsic evil had to be created, given there were no real examples to be found. Steve Rosenberg's snide and scathing commentary, about people being bused in to the celebrations in Red Square was not going to suffice.

 The intrinsic evil in the perpetrators of this crime was illustrated in a Telegram post from Rybar that included the composite illustration and analysis below: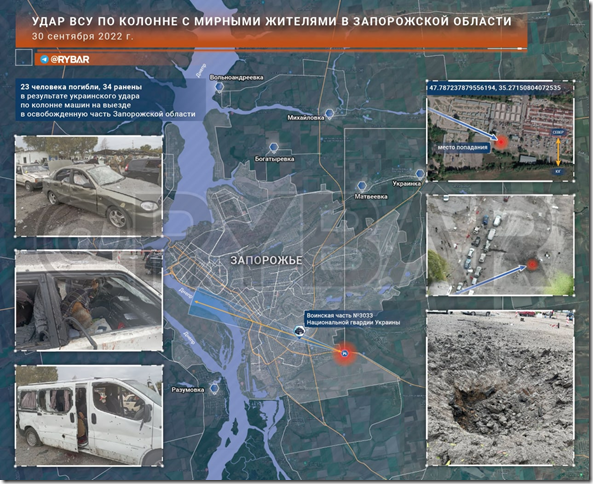 The point of attack was on the south-eastern outskirts of Zaporizhye, at a car market which was being used as a collection point and check point for vehicles returning home or traveling south and into Russian-controlled territory some 30 kms further on. The story of what happened, and what preceded this atrocity, has been well researched by many, and put together by Elena Evdokimova in this twitter thread. It appears that the people in the would-be convoy had been kept waiting there for two days by the SBU, for reasons we might speculate about, and were becoming angry and impatient. This was during the period when voting in the referendum was taking place, in which they were clearly desperate to take part.  
  As illustrated above, observations of the scene and evidence from the crater indicated that the missile - likely a HIMARS one - hit from a generally Westerly direction, where there were AFU bases, as also illustrated in this Google Sat image: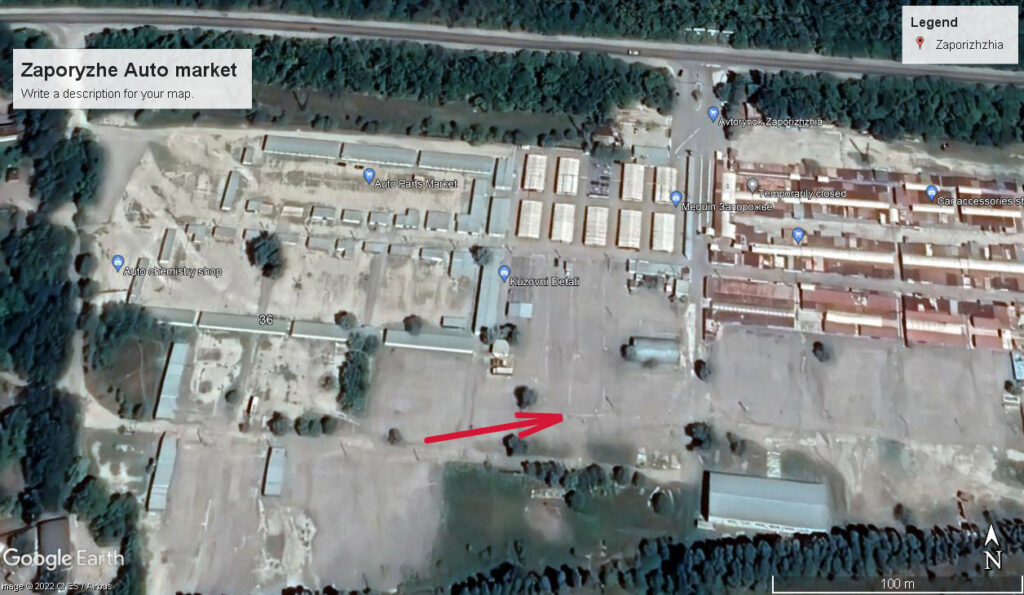 A similar view was included in the BBC report, as shown at the top of the collage below, with a selection of frames from the video. The relevant section of the BBC's video report is posted below, but there are some points to make here so that it may be seen in the proper light - that is as a carefully edited series of clips designed to support the false claims of a Russian missile strike. 

  Firstly the timing, which appears to cover from midday - shown on the reporter's watch - to mid afternoon as indicated by the shadows in the drone view. Note that this faces West and not North as in the Google image above. That the drone view is later is also confirmed by the reduced number of cars, and car transporters also visible. These aberrations in timing are important, as in the video, and seen below, the BBC's reporter James Waterhouse is told to take cover from an incoming Russian missile, and runs with his cameraman to a dug-out, visible at the far right of the picture. He states, rather stupidly, that this could be a "double-tap strike" - so infamously claimed as evidence of Russia's cynical brutality. The viewer would infer from this that the convoy had only recently been hit, as the second strike is purportedly to hit those who come to the aid of the wounded. 

  In reality, the only state to use such double strikes has been Israel - which claims this is to warn residents to leave their homes before the second lethal strike, which follows less than 5 minutes later. Such claims have been made against Russia before in Syria, where on occasion they may have been valid, but for a different reason. In Syria's long fight against Western backed terrorists and their special assistants - the White Helmets - any stratagem to kill these fake rescuers would be valid.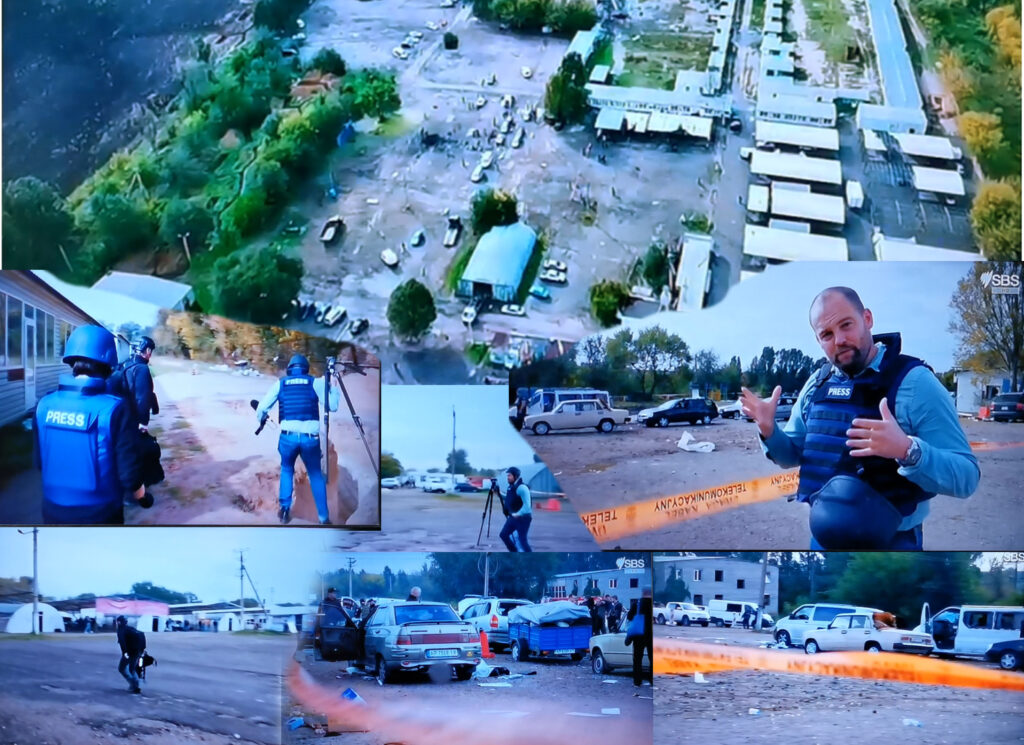 But the claims are invalid, as there is no evidence nor reason for Russia to have fired any missiles at what appeared to be both civilian and "pro-Russian" vehicles. In the alternative reality inhabited by the BBC and its victim-audience of millions however, neither logic nor morality has any place in the enemy lexicon. They are just killers, as Biden said.  This is illustrated at the end of the BBC report, when Waterhouse admits that "it is unknown what Russia's intention was" - but that "there is no doubt this was a massive crime against innocent civilians anyway".

   We are used to such amorality in the Empire's enemies, so accept that they, and Putin in particular, do dreadful things simply as vindictive acts or to show that they can. This logic enables the whole Western media enterprise to claim - currently - that Russia set explosives and blew up its own pipelines full of gas, despite no evidence and despite the very obvious evidence and motivation for the US and allies being responsible. 

   Despite this impunity, and complacency at their ability to get away with practically any crime simply by making a story up, the BBC and other media evidently saw a need to come up with another story than the "taking aid to relatives" one; the following day it was claimed that Russian forces had targeted the convoy because they didn't have Russian passports. Having a six-year old write your corny story-lines seems to work quite well on an audience whose understanding is equally simplistic. The video report featured on the 6 O'clock news was repeated in an online article, but without the video included. Below is a less than perfect screenshot taken from the BBC news bulletin rebroadcast at 7am by SBS Australia, including the relevant - and incriminating details. 
 Just to emphasise the sheer criminality and shameless mendacity of the UK's globally influential and respected state broadcaster, we might have a little reminder of another vindictive and deadly attack on innocents waiting in a convoy - that on the stranded residents of Foua in Idlib province in Syria not long after the liberation of Aleppo in December 2016. This attack, a car bombing by Al Nusra terrorists in which White Helmets actively collaborated, was barely reported by the BBC, nor the photos and videos from the scene ever published in Western media. 

The story itself is almost too horrible to relate, as the parents of children were kept at gunpoint inside the buses while their children were lured outside with offers of sweets, only to be slaughtered in front of their eyes. Injured children were dragged away and taken to hospitals by the White Helmet "rescuers", never to be seen again.
 Making a further link with events in Ukraine, both Maxim Grigoriev and Vanessa Beeley interviewed witnesses to these crimes and reported evidence to the UN, while Eva Bartlett had followed the story of the residents of Foua and Kefraya for their years of resistance and captivity, before this final liberation and slaughter at the hands of NATO's mercenary terrorists.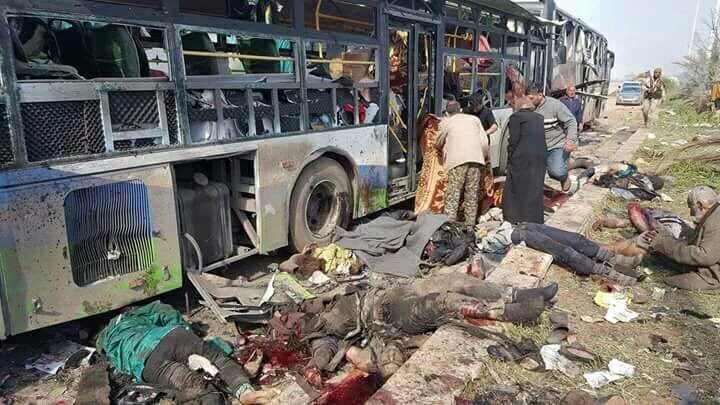 DM 5th October 2022