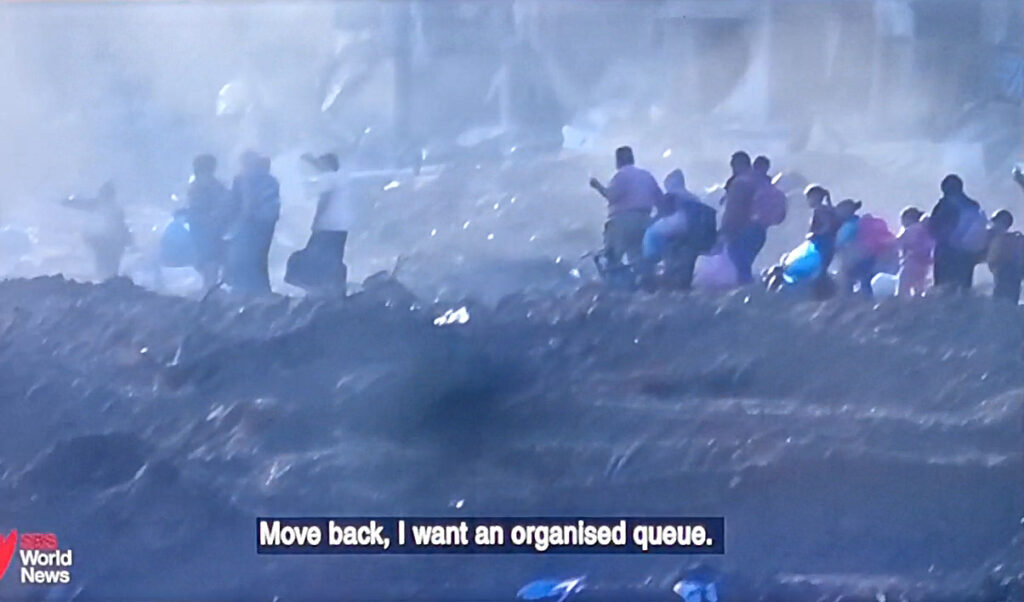 It was on this day that the world was witness to a crime against humanity almost without precedent - the forced clearance of a whole community from their land by a country's army. After weeks of deprivation, thousands of terrified people were finally forced to leave their ruined homes and shelters, and marched south with the prospect of some greater safety and access to 'aid'. 
 But this was the vilest trick; within a week their new homes and shelters further south were bombed, forcing them on a second march, this time under direction from army loud-hailers, as illustrated above and in this video clip: 
 As the reporter notes, their latest destination is 'safe zones' selected by the same army that has made everywhere else in the strip 'unsafe' - but are in fact simply areas with no facilities where tents can be erected. The latest reports from these zones show them becoming increasingly dangerous for a weakened population then subject to rain and cold, respiratory and gastric infections and epidemic diseases. 

On their long walk south - a walk of endurance for those with injuries but hard for all for lack of food and water - these humiliated and abused people were forced to walk past the decomposing and mauled corpses of others, who had been targeted by Israeli snipers or collapsed from exhaustion. This video clip from SBS' news report starts with the comments from a doctor forced to leave Al Shifa hospital on the suffering he was seeing, and talks to a man collecting some of the dead on his cart, wishing to give them a decent burial:
 The surrounding and bombardment of Al Shifa hospital, followed by its invasion and forced evacuation by the Israeli Army has been brilliantly summarised by George Galloway in this monologue, but has also been reported on in detail by Al Jazeera and its local correspondents. Youmna al Sayyad reported from Khan Younis, having only recently fled Gaza city with her family: 

  After the Israeli army's deadline passed on Saturday morning, Omar Zaqout, the hospital's supervisor, told Al Jazeera that forced evacuations began, adding that the scenes outside the facility were "appalling".
"We were told to leave through al-Wehda road. Dozens of dead bodies are scattered on the road," he said. "Many homeless people who cannot walk are left out in the open."

Munir al-Barsh, a doctor at the hospital, said that the Israeli army warned that all those leaving had to wave a white handkerchief and walk in a single line.
"They were humiliated by soldiers all along the road," al-Barsh told Al Jazeera.
"Many of the patients were put on wheelchairs or rolling beds. Family members were forced to carry their wounded children or parents themselves … These are horrible, unprecedented scenes," he said.
Doctors said the Israeli army instructed people to evacuate through al-Rashid Street, not the usual street or route that people evacuating to the south are supposed to take — Salah al-Din Street.

This map gives a better impression than many of the geography of Northern Gaza: 
 As time goes on Israel's savagery and inhumanity may cease to have the same impact, even as conditions inside the camp rapidly deteriorate; without treatment or even simple disinfection, many of the wounded will surely succumb to sepsis and gangrene, if not to pneumonia or infectious diseases. 
  In one of the most cynical and callous acts yet carried out by the Israeli leadership and army, Israel allowed two tankers of fuel into the strip to keep sewage and desalination plants going. This was NOT to save Gaza's citizens from disease and poisoning but to prevent Israel's soldiers from catching diseases and bringing them back to Israel, as explained chillingly in this video clip:  
 In an attempt to chart and simply record the stages in the second Nakba, I have recorded these current video reports and still photos, with the intent to add more as appropriate. Those films and stills showing the people fleeing Israel's terrorist gangs in 1948 retain their impact 75 years later, but are unrepeatable. The danger now is that with so many videos of today's expulsions, the recording of key stages may be overlooked and forgotten. 
 
 This will surely be the case if the process of ethnic cleansing and extermination continues, or if the majority world's final intervention creates a bloodbath of far greater dimensions.
 
 It is also clear that "Israel" is successfully picking off journalists in targeted drone and missile attacks so that their crimes in Gaza will not be seen - as George Galloway points out. Just yesterday an Israeli warplane fired two missiles at a crew working for Al Mayadeen, Lebanon's resistance news channel, killing reporter Farah Omer and cameraman Rabih Me'marih. The crew was not close to the fighting, so unprepared for such a sudden attack and 'martyrdom'. Their deaths are a warning to all of us. 

DM November 22nd 2023