V. Zelensky's warning was delivered with an unusual venom and urgency, for a man already inclined to such dramatics, and doubtless persuaded many of his star-struck followers that Russia really was cooking up such a terrible and desperate scheme. Without apparently stopping to consider why Russia would seek to flood and devastate part of the province it has so recently welcomed into the Russian Federation, forcing the evacuation of its own citizens away from the threat, Western media announced in unison the words of their man in Kiev in identical form - as he "told the West to warn Russia NOT to blow up the Kakhovka dam". 

 That media, in seeking to explain why Russia would threaten to do something so cruel and stupid, homed in on the classic figure of General Surovikin, who lacks in charisma what Mr Zelensky lacks in honesty and integrity, at least for a Western audience. Media eagerly reported that Surovikin had said that "things are difficult" in Kherson, without mentioning why, and following it with claims that Kherson "could fall within days" to the AFU. His warning, and advice that citizens should be evacuated, was to enable Russian forces to effectively counter AFU offensives without endangering civilian lives, nor those of Russian and local soldiers unnecessarily:

"I do not want to sacrifice Russian soldiers in a guerrilla war against the hordes of fanatics armed by #NATO. We have enough forces and technical means to force #Ukraine to a complete surrender."  

Surovikin also warned - the West - that Ukraine was planning some dirty tricks:
"The NATO command of the armed forces of Ukraine has long been demanding offensive operations in the Kherson direction from the Kiev regime, regardless of any casualties – both in the Armed Forces of Ukraine and among the civilian population," Surovikin stated.

"The Russian military is aware of Kiev's plans to use "prohibited" means of waging war in the Kherson area," Surovikin added.  

"Namely, Ukraine is preparing a massive strike on the Kakhovka hydroelectric plant, located on the Dnieper River, as well as launching massive rocket and artillery attacks on Kherson itself. These actions can lead to the destruction of the infrastructure of this large industrial center and massive casualties among the civilian population," Surovikin said.

Russian media distributed information on the depth and extent of the flood that would result were the Kakhovka dam blown up. I have superimposed that map on a Google map of the area below: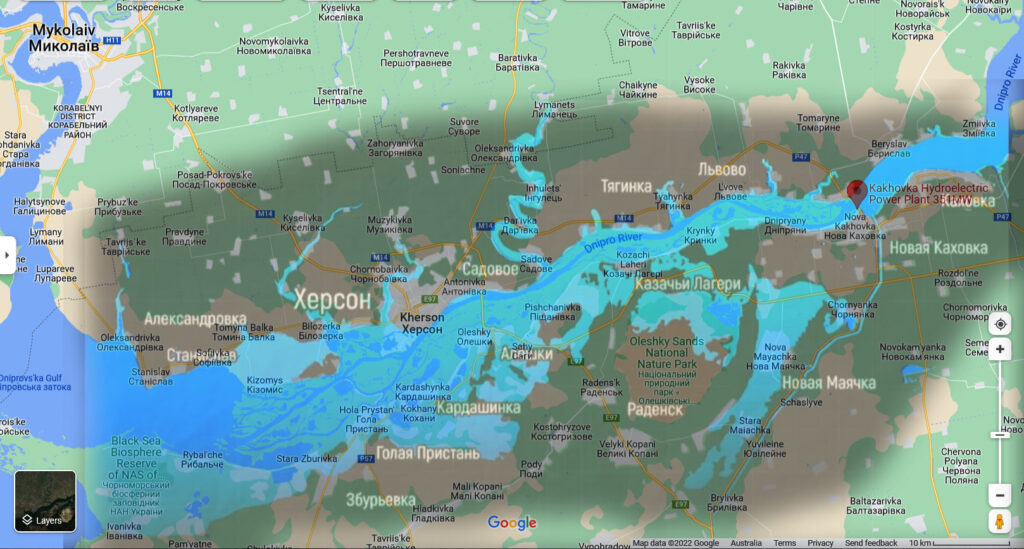 The Kakhovka dam is not high, but holds a lot of water, in addition to the volume coming down the Dnieper river, as seen in this satellite photo: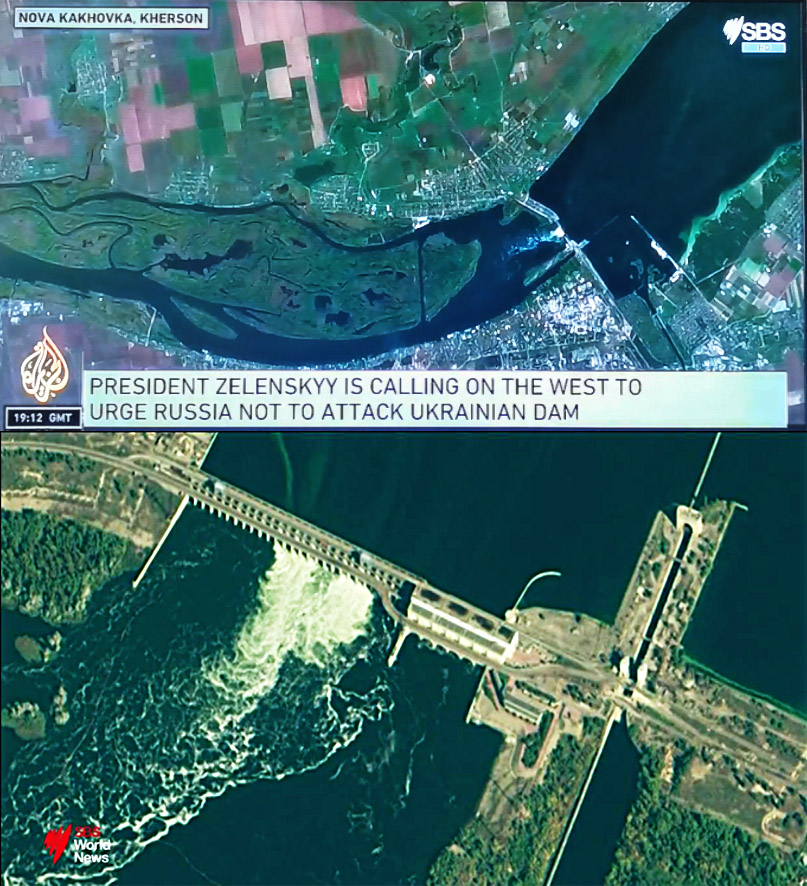 The Russian map specified the area that would be inundated and the depth, but it was left to the great actor in Kiev to turn it into a Russian threat. Below are two news reports, from SBS Australia and from Al Jazeera, presenting the story in an identical and false way. A small detail is included – notice the Nazi skull insignia on the breast plate of an interviewed Ukrainian soldier near Kherson:
Already the war of disinformation and threats has moved on, with Russia's specific warning of a "dirty bomb" being constructed in the Dnipro area being turned around by Kiev and its Western backers into a "Russian nuclear threat". So it's necessary to publish this now, so we don't forget what was said, or that the threat of a sabotage attack on the Kakhovka barrage by Ukraine remains a possibility. What may prevent this - as explained by Pepe Escobar in a reference on his telegram channel - is Russia's warning that any such attack on the dam would result in a strike on the one remaining and crucial part of Ukraine's electricity infrastructure - the 750Kv line and interconnector with Europe, through which nuclear power can be exported and European generation imported - as it has been since March. 
DM 25th October 2022