Two weeks after Russian forces withdrew from around Kiev, and left the Chernobyl nuclear reactor site - which lies mid-way to the Belarussian border north of Kiev, the BBC's Yogita Limaye reported from the site. Western media had been invited there to view any damage, and to make a publicity stand for Ukraine's custodianship of the entombed reactors, as well as highlighting the danger posed to nuclear waste storage by military conflict. Ex-President Poroshenko was brought along to put in an extra word against Russia - as if one were necessary only a week after the Bucha massacre story was unleashed on the Western world. The BBC also claimed that the plant was only saved from disaster by the staff's quick action after the power supply was cut, by "stealing" diesel from the Russians for their generators.

 Whether it was part of the Russian thinking in moving quickly into Ukraine from Belarus at the start of the SMO I don't know, but given the talk from Zelensky that Kiev would like to acquire nuclear weapons, and the presence of extreme nationalists in the country, taking control of Chernobyl and its nuclear waste storages looked like a good move. While exploding enriched Uranium or Plutonium is probably beyond the ability of "non-state" actors, making a "dirty bomb" out of mid-level nuclear waste is probably not. Low levels of radioactive isotopes in the environment or in water would also present great problems for authorities, even if the short term danger to people was low.  

 In addition, the mere claim by a group to have possession of some radioactive material which may be spread around should demands not be met is a useful tool by which to gain advantage over an opponent, and one Kiev's forces might have been expected to use. Their habitual and careless use of civilians as human shields is a good example, and has been so prevalent that even Amnesty had to admit to it. 

 In light of this it was interesting to see what was revealed when the media arrived in Chernobyl. There had been little mention of the site being occupied by Russian forces, given there was little to report that could be used against them. The workers were allowed to remain, and in control of the plant, whose regular maintenance remains necessary. The BBC naturally focused on a door which had been forced - almost the only bit of visible damage - but then surprisingly took viewers on a tour through the basement, where it was clear many soldiers had been living. According to their reports, 170 members of the National Guard had been kept there, but had apparently been taken away when the Russians left. 
It seems a rather large contingent just to guard the site, so it was a wise precaution to take these forces prisoner. There was no indication they were ill-treated – as would surely have been pointed out by the BBC, who showed unreasonable concern for the Russian troops having camped and made dug-outs in the "red wood" of heavily contaminated land near the reactors. Quite why the Russian invaders had to camp out in a radioactive wood while the Ukrainian "protectors" were warm and dry in their bunker is hard to say, but the recently evacuated dormitory shows no sign of any fighting, nor of being "ransacked" or looted as the BBC claims: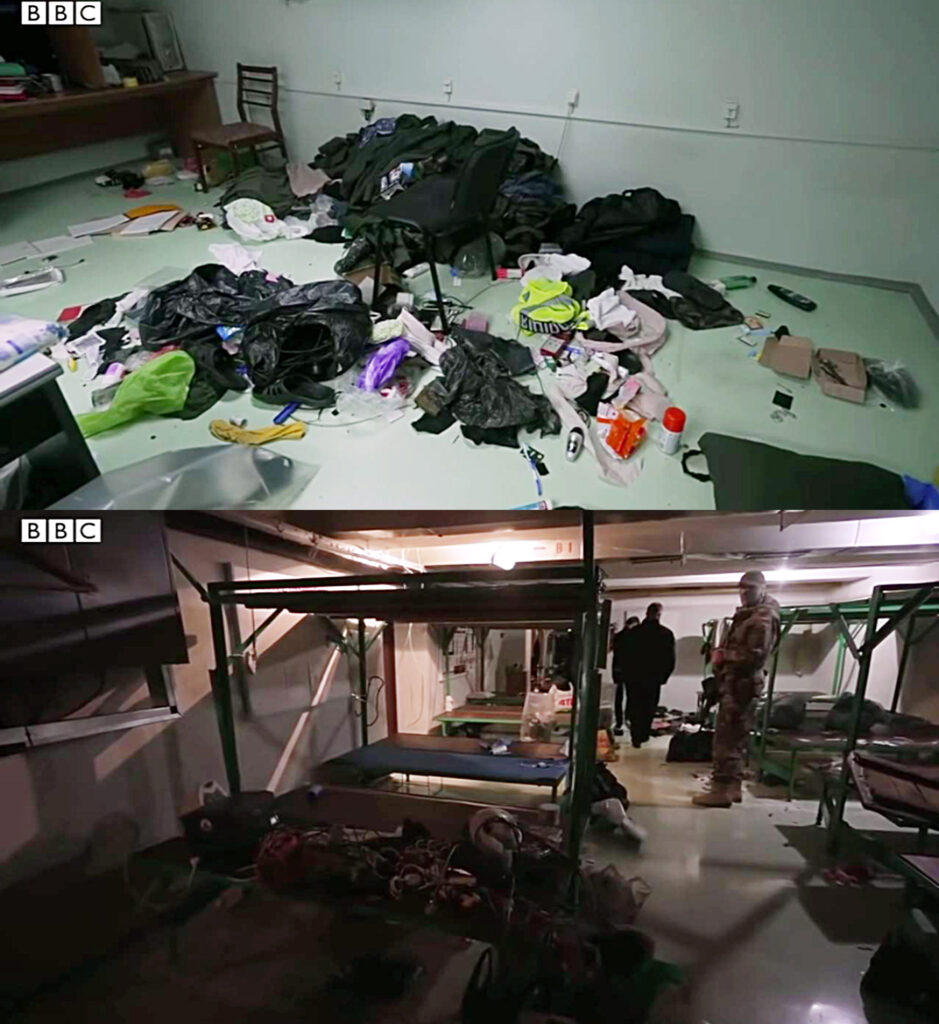 Rather unconvincingly, engineer Valery Seminov - pictured in the leading image with Petro Poroshenko - observed that:

 "Just outside the sarcophagus which protects the damaged nuclear reactor, Russian soldiers piled up sandbags behind which they could hide if attacked. Valeriy scoffed at this, saying the Ukrainian military wouldn't dream of firing at a nuclear reactor."

 He might be disillusioned after watching the repeated shelling of the Zaporizhye nuclear plant by the AFU in the months since, and culminating with the current planning of an extreme act of political nuclear terrorism. This is both to increase the fear and loathing of Russia and its "invasion" and to find a pretext for further arming Ukraine to protect against the alleged nuclear threat.  At the present moment the talk of a "dirty bomb" is used for both those things, but is also a reality according to the Russian military, which has presented evidence and specific intelligence about the plans.  
 The Russian Ministry of Defence, Foreign Ministry and UN ambassador have made it abundantly clear (see image below) that they know Ukraine is preparing to detonate a dirty bomb somewhere in Ukraine that will be attributed to Russia. A combination of intelligence and intelligent speculation suggests several possibilities, including that Ukraine puts a dirty bomb on a missile that it shoots down, claiming this is a nuclear strike from Russia that demands a response.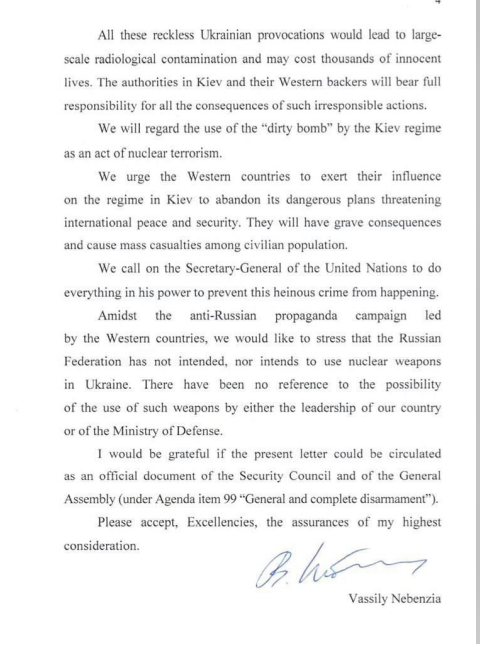 Western commentators have turned this round and to their advantage, claiming that Russia has invented the story as cover for launching a nuclear strike - yet this is exactly what Kiev and its partners have planned. Russia's Ministry of Foreign Affairs doesn't hesitate to name who it believes those partners are, with the UK top of the list of suspects. 

  Confirming this manipulation of information and truth by the UK intelligence agencies, including the Institute for Statecraft's various actors, was an interview broadcast by Australia's ABC on the 24th of October - just at the time when the "dirty bomb" claims were being made and refuted. The producer credited with this interview might know who chose the "expert" guest, Nigel Gould Davies, or whether he had any choice. NGD's credentials speak for themselves, from Wikispooks.  

From UK ambassador to Belarus, to the UK Embassy in Moscow, to his current position with the Integrity Initiative and the IISS, Gould Davies is not just some expert commentator, but rather someone selected to present the desired UK narrative. As a couple of short extracts from his interview indicate. After Gould Davies dismisses the danger from a dirty bomb, Patricia Karvelas asks:

"Do we know if Ukraine has the material to construct such a device, (a dirty bomb) because Ukraine's President Volodomyr Zelensky has said Russia is the only country in the region capable of creating such a weapon?"

NGD: It's conceivable in theory, but there's literally no merit to the claim whatsoever, that Russia is making. It has neither the interest in poisoning any part of its own territory, nor does it have an incentive to do so. Ukraine is on the front foot; Ukraine is making advances in this war. It would make literally no sense for it to violate the nuclear taboo by detonating a weapon that would cause international condemnation and, er which it doesn't need anyway. 

In fact it's clear that Ukraine is already on the back foot, and detonating a nuclear device could be a last desperate bid for direct Western intervention - if it can be claimed to be a Russian nuclear strike. NGD's framing of the situation only adds weight to the Russian speculation on what is being prepared, as it precisely reverses the truth: 

 "So Russia is clearly up to something, er, and it's right that its allegations are not being taken seriously. So what does it really mean? Er, I think it's likely that er Russia is signalling in effect that Russia itself might carry out some form of nuclear escalation and try to blame it, however absurdly or implausibly on Ukrainians. 
 But mentioning nuclear weapons, mentioning also as Minister Shoigu did, the danger of uncontrolled escalation, is designed to frighten the West, by doubling down on Putin's warning, that Russia itself could use nuclear weapons, a warning made a few weeks ago, and try to force the West to impose some kind of compromise peace on Ukraine. I think that is the most likely scenario here. But really it's a sign of Russian desperation – it's losing the war, it has to threaten escalation, and try to persuade others to stop the war that it's losing. 

Asked about the situation in Kherson, which has been changing rapidly from a walk-over to a desperate retreat under fire, Gould Davies framed it thus:

"We are now seeing advances down in the South, in Kherson, to the extent now that Russia is trying to force civilians in the territory it occupies there, er out of the city. It's also er, mined the enormous hydroelectric power dam there, and there's a danger that Russia could try to flood the whole area. ... 
 "And again, this is why Russia is escalating, because as things stand, the dynamic is working against it. Hence the barrages of missiles against energy infrastructure targets in recent weeks. Hence also the use of Iranian drones to swoop down and er sow terror on Ukrainian civilians. Hence also the latest threat of escalation by nuclear means."

It's impossible not to see the hand of His Majesty's Government at work here, both on the ground and in cyber-space through its agents like Nigel Gould Davies. Following the interview above, Gould Davies reiterated the same false claims and conspiracy theories in a blog post for the IISS. While the story on the nuclear threat was still circulating here, and boosted by reports of Russia's nuclear readiness exercises, the Australian government announced that it would be doing as proposed several weeks ago, and sending a contingent of soldiers to assist with training Ukrainian reserves in the UK as part of a joint effort.

 There was no consultation with the Australian public on whether this deployment into direct war with Russia was acceptable, militarily or economically - but given the terrible state of public ignorance and prejudice it would likely have got the go-ahead, even as an open-ended conflict.  But the deployment isn't until next year, with any new trainees not ready until March - by which time it will surely all be over bar the shouting. The latest estimates of Ukrainian forces lost and killed in the conflict are shocking, and suggesting that there are few trained forces surviving. This survey puts the dead at around 400,000. 

But there is more to the story of Nigel Gould Davies, which must be the subject of another article about GAS. Just a short teaser:- as can be seen from his CV on Wikispooks, from 2010 to 2014, he was a leading executive with the BG Group - derived from British Gas, and with global operations particularly focused on LNG. What is more, and striking considering the history of Australian government involvement in the LNG market, is that Gould Davies was head of policy and corporate affairs with BG in South East Asia just at the time when the CSG extraction and export business was being pioneered by BG in Queensland. 

  This was at the same time as chronic problems with shipping Russian gas through Ukraine to Europe contributed to the "Revolution of Dignity" in Kiev 2014, and the relentless campaign to block the Nordstream pipelines that would cut Ukraine out of the picture. This link with UK interests in the LNG market in Europe suggests close collaboration with the US over disinformation warfare, including the Navalny poisoning scheme.

 And now they have reached their conclusion - sabotaging the Nordstream pipelines in one of the greatest acts of state-sponsored terrorism in history, which may be ultimately responsible for the loss of millions of innocent lives.
DM 28th October 2022