Amongst the many false narratives circulating around the "liberation" of Kherson and its rather short-lived re-occupation by Kiev's men, the extreme Nationalist allegiances of these men was carefully concealed. As the short clip below reveals however, this identity was quite proudly proclaimed after Mr Zelensky came to visit the city. This was not long ago, but looking back now it is clear that it was then or never - given the rapidly failing power systems and onset of winter. As illustrated above, people are already being advised to leave the city, though without mention of where they should go. So as with everything else done by Kiev, Zelensky's visit was all for show. 
 The red and black flag of the Right Sector at the end of this clip shows the Ukrainian trident replaced with two guns, serving as an unpleasant reminder of the "days" before Russian forces moved into the city back in March. (those days were years of waiting for Kherson's mostly Russian-speaking population, which underwent forced "Ukrainisation" following the 2014 coup in Kiev)  In the video clip it also appears as though the man holding the flag above the monument is making a Nazi salute, something noticed elsewhere in the city that day. Ironically media attention was drawn to it after CNN filmed such a signal, and had its accreditation withdrawn by Kiev.   

  But Nazi symbology comes in different kinds, and on different fighters on the Ukrainian front lines. The collection of badges on the man below, whose group featured in multiple different bulletins, includes a symbol with a crown suggesting British army forces. Given the widely reported presence of MI6 or SAS forces in Kherson region across the water from the Zaporizhye nuclear plant, this would hardly be surprising. In the report featuring this team, it was said that mortars and heavy machine gun fire were being directed across the Dnieper, though that seems unlikely. The team operating the surveillance drone were evidently looking for longer distance missile targets.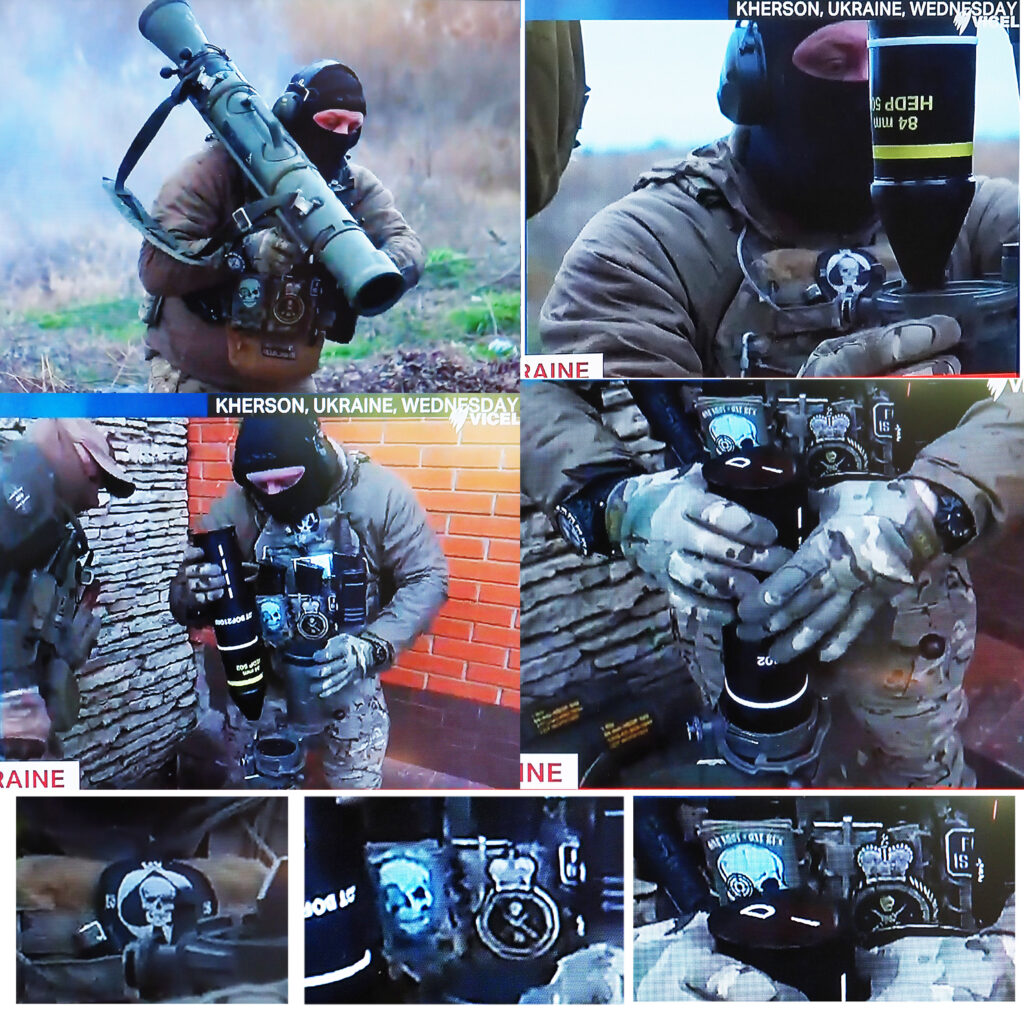 The leading photo-collage shows a drone being operated, and watching movements some distance away East of the Dnieper. The person reporting on the traffic leaving Kherson, Maria Avdeeva, of the "European Experts Association" became familiar in reporting from Kharkiv soon after the start of the SMO, when she showed the damage from a Russian missile hit near the central administration building in a video posted to media. In both cases her appearance signalled a misrepresentation of events, and the guiding of Western media into a single narrative hostile to Russia. 
 
  Also shown in multiple media reports, in video and still photos, were Ukrainian soldiers helping old people evacuate from Kherson city or region using torches. While barely evident, the skull symbol on this soldier's vest is clear. Quite how it goes with the black and white chequered Keffiyeh I'm not sure: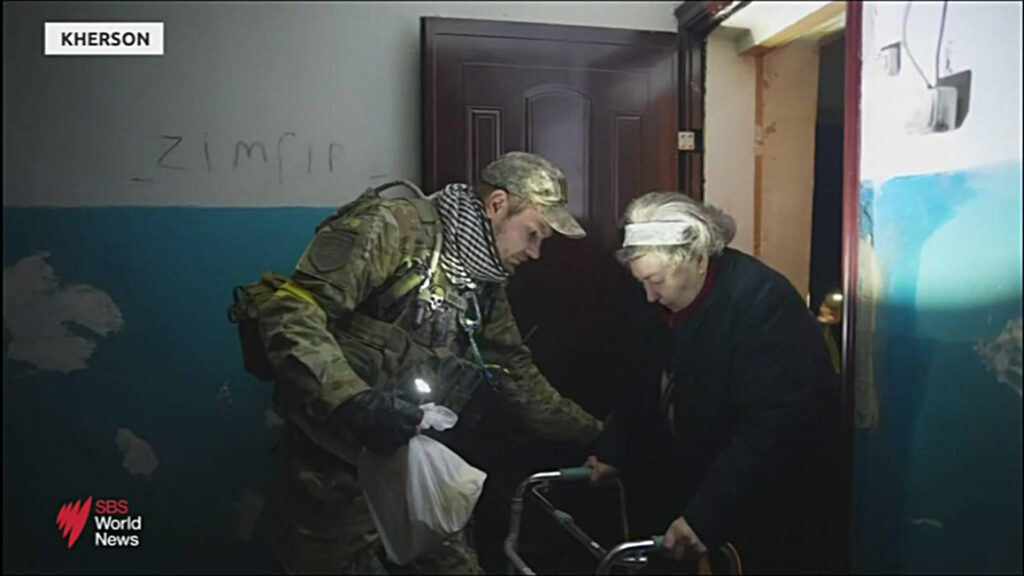 While the situation in Kherson and Kiev has been the media's prime focus, this has clearly helped divert attention from the heavy losses being sustained in Donbass in the current battles for Bakhmut and Avdiivka. In an obvious attempt to squeeze the narrative, Channel 4's Lindsey Hilsum recently appeared in the trenches in Donetsk, with some rather suspect soldiers. Below is the platoon commander, identifying himself by his helmet symbols of SWAT and ABRAMS, and PSD on his breastplate: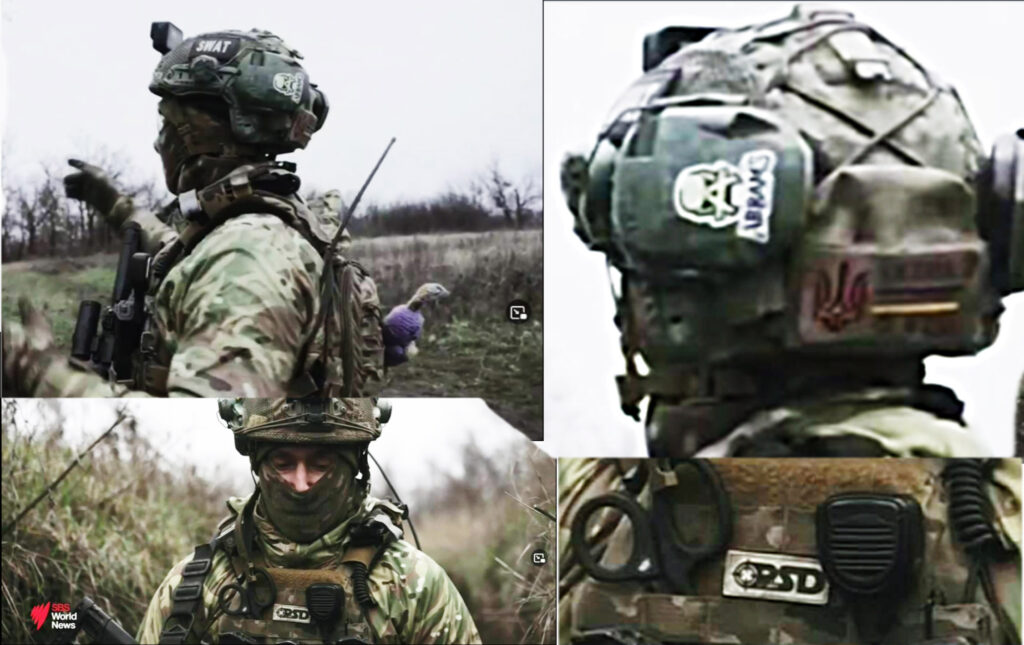 Following this report from near Donetsk, Hilsum joined some fighters she said were from the 24th King Danielo Brigade, who were operating a US Howitzer near Bakhmut, and writing messages of vengeance on the US made and supplied 155 mm shells. This brigade has a long and interesting history, but one that became tarnished in 2014 as they joined the AFU fight against the separatist resistance to Kiev in Donbas. As Wikipedia tells us, the brigade received training from US, Canadian and Lithuanian forces in 2017 at a base in Yavoriv in West Ukraine, and no doubt this made them a natural choice to receive and use US weaponry. That Donetsk city and other Donetsk region towns have suffered so much from shelling with 155mm Howitzers may be put down to guys like these: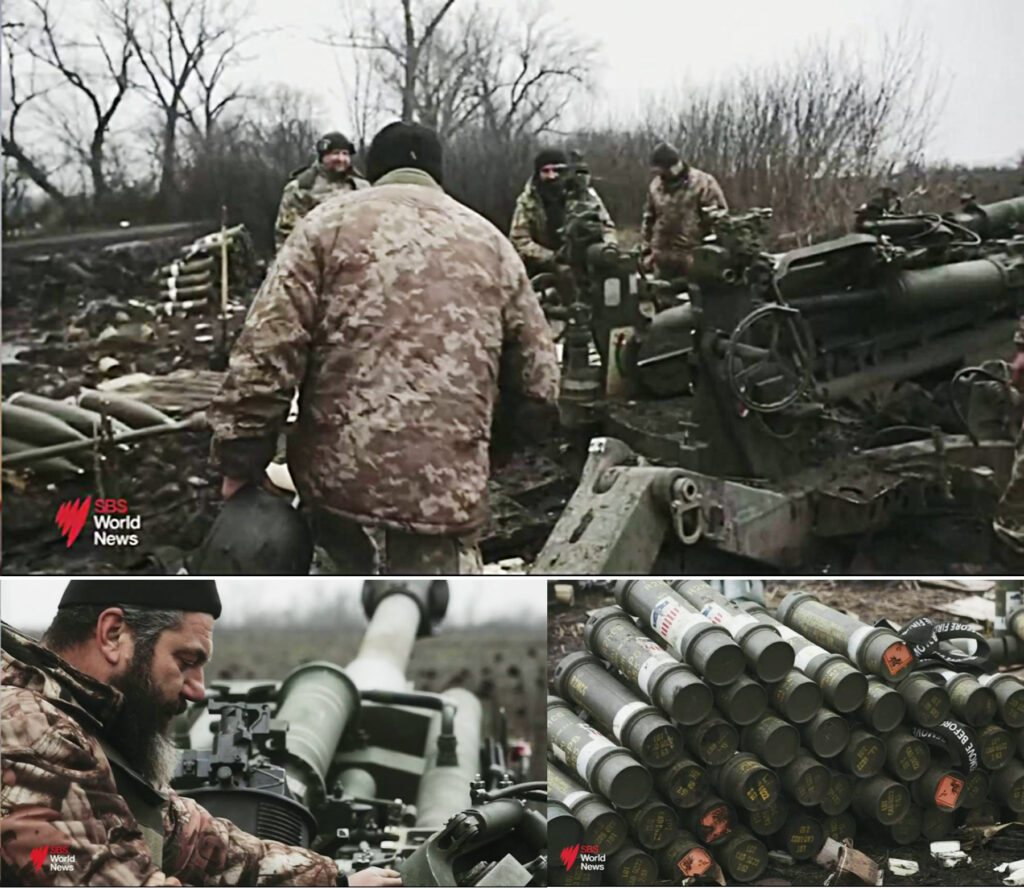 At the same time as Lindsay Hilsum's reports of WW1 trench warfare in Donbas were blitzing the airwaves in the UK and its colonies, England's new Queen Consort was entertaining and feting Mr Zelensky's wife Olena Zelenska in the company of several other "royal" women. Appearing in the upper photo below is one of these women – a Mary Macdonald from Tasmania – who caught the eye of a Danish prince and became Princess Mary of Denmark.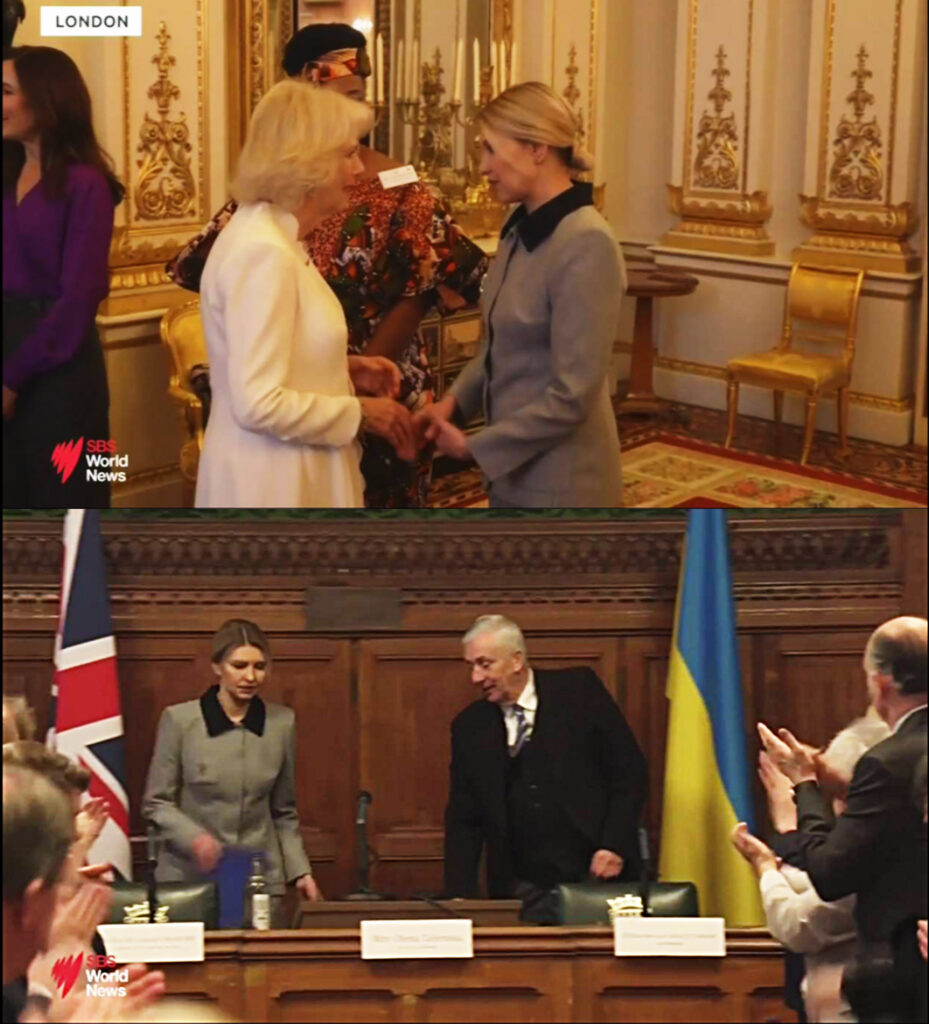 This meeting of ladies-no-longer-waiting was however not the benign chatter over porcelain and silver tea tackle it appeared, nor was it the highlight of Zelenska's visit. Other global affairs rapidly shifted it away from the front pages, with controversies over the Qatar football games covering most of them. Fortunately for the record, the events in London for which Olena Zelenska was the poster child were well detailed in the UK press, such as in this report from the Daily Mail.

 Her first engagement was a presentation to the 'Preventing Sexual Violence in Conflict Initiative' conference in the British capital, followed by a visit to Portcullis house for a "Russian war crimes" exhibition, which had already been shown at NATO headquarters and at the European Parliament. Here she addressed a multi-party group of MPs including Boris Johnson and Keir Starmer and spoke forcefully about the crimes allegedly committed by Russian forces in Ukraine. The Daily Mail article has a good collection of photographs, but less of the graphic detail in Zelenska's speech, for which one must refer to the likes of Sky News.  Her claims - and they are just claims - are reminiscent of those made by another prominent member of the Ukrainian regime earlier in the year. Human Rights chief Lyudmilla Denisova was sacked in disgrace after the claims were found to be total fabrications and to portray Ukraine in a bad light.  

  It is frankly worrying that the lies told about Russians have now become so entrenched that they can be bandied about amongst Western leaders and used as a weapon of cyber-war without challenge. What is worse is that the dreadful atrocities this woman claims have been committed by Russian soldiers - raping young children and castrating soldiers - are crimes committed routinely by Ukrainian nationalists, and well recorded by investigators like Maxim Grigoriev. 
DM 5th December 2022